TRUSTED AND INNOVATIVE SOLUTIONS FOR WATER CONSERVATION. NO MATTER WHAT YOUR LOSS.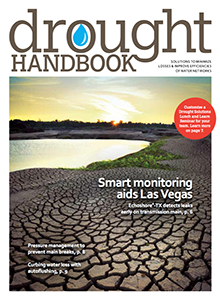 More than one-third of the United States faces drought conditions, often in parts of the country experiencing population growth. This just compounds the daily challenges of providing safe, clean drinking water.
Mueller Water Products' wide range of product and services enable utilities to better manage water shortages and restrictions through short-term "shovel-ready" approaches to long-term capital projects.
From permanent leak detection monitoring for transmission mains to distribution system leak monitoring using advanced metering infrastructure, Mueller Water Products continues to develop solutions that help utilities actively diagnose, monitor and control the delivery of drinking water. All to help conserve more water and ensure system resilience.
The need for access to safe, clean drinking water is universal, and water utilities need a trusted partner who understands water infrastructure and the business challenges utilities face. Throughout their long history of producing quality, innovative products and solutions, the companies that make up Mueller Water Products have demonstrated that when utilities select a partner, the smart move is to partner with Mueller.

Download the Drought Handbook here.